W dniu 19.02 partnerstwo projektu SAVE-Stimulating And Validating digital Entrepreneurship as the best way to increasing the quality of start-ups, zebrało się na spotkaniu online, aby omówić nadchodzące testowanie przygotowanych treści modułów.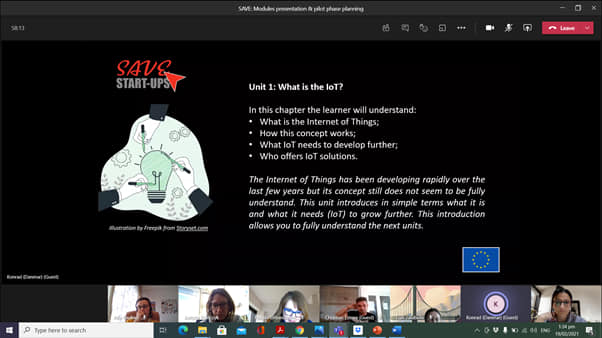 Aby ułatwić testowanie powstały specjalne prezentacje, które w skrócie prezentują treść szkoleniową dla każdego z tematów.
Już wkrótce więcej informacji!
Koniecznie śledź nasz projekt na
Facebooku: https://www.facebook.com/savestartups
Oraz odwiedź stronę internetową:
https://savestartups.erasmus.site/


Ten projekt został zrealizowany przy wsparciu finansowym Komisji Europejskiej. Projekt lub publikacja odzwierciedlają jedynie stanowisko ich autora i Komisja Europejska nie ponosi odpowiedzialności za umieszczoną w nich zawartość merytoryczną.