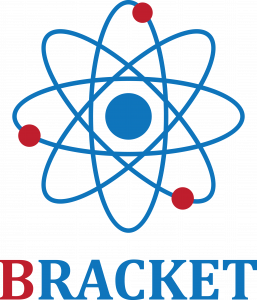 Bracket – Boosting a novel and innovative tRAining approaCh of Key Enabling Technologies
Numer projektu: 2018-1-HR01-KA202-047493
Czas realizacji: 01.11.2018 – 30.04.2021
Opis projektu
Celem projektu BRACKET jest wdrożenie, w postaci otwartych zasobów online, kluczowych technologii wspomagających kształcenie i szkolenie zawodowe.
Zawartość kursu zostanie podzielona na 5 rozdziałów:
Wprowadzenie do kluczowych technologii wspomagających
Nanotechnologia
Zaawansowane rozwiązania
Biotechnologia
Innowacje w zakresie kluczowych technologii wspomagających
Do kogo skierowany jest projekt?
Uczniów organizacji VET, pracowników oraz menadżerów firm, ekspertów w dziedzinie edukacji oraz instytutów badawczych
Następujące rezultaty zostaną utworzone i wdrożone do końca projektu:
Badanie dotyczące ogólnych potrzeb VET w odniesieniu do kluczowych technologii wspomagających
Program nauczania BRACKET
Materiały szkoleniowe BRACKET
Platforma szkoleniowa BRACKET

Strona projektu: bracket.erasmus.site
Partnerzy
Koordynator – INSTITUT ZA RAZVOJ I MEDUNARODNE ODNOSE (IRMO) – Zagrzeb, Chorwacja
T.E.I THESSALIAS – Larissa, Grecja
ASOCIACION EMPRESARIAL DE INVESTIGACION CENTRO TECNOLOGICO DEL MUEBLEY LA MADERA DE LA REGION DE MURCIA (CETEM) – Yecla, Hiszpania
BIEDRIBA EUROFORTIS (BEFO) – Ryga, Łotwa
LJUDSKA UNIVERZA, ZAVOD ZA IZOBRAZEVANJE IN KULTURO, ROGASKA SLATINA (LURS) – Rogaska Slatina, Słowenia
INNORENEW COE RENEWABLE MATERIALS AND HEALTHY ENVIRONMENTS RESEARCH AND INNOVATION CENTRE OF EXCELLENCE – Isola, Słowenia
Danmar Computers sp. z o.o. – Rzeszów, Polska


Ten projekt został zrealizowany przy wsparciu finansowym Komisji Europejskiej. Projekt lub publikacja odzwierciedlają jedynie stanowisko ich autora i Komisja Europejska nie ponosi odpowiedzialności za umieszczoną w nich zawartość merytoryczną.