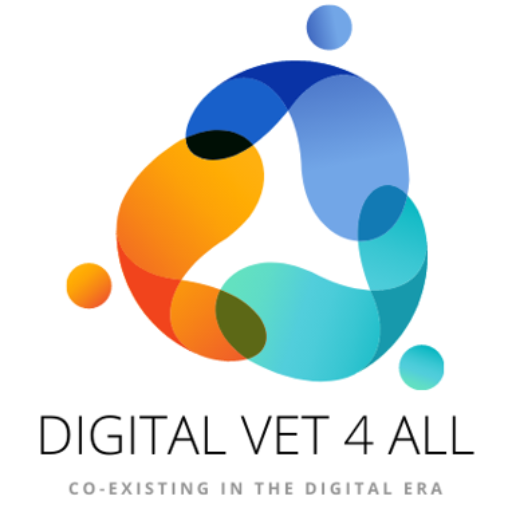 Digital VET for all – co-existing in the digital era
Project number: 2021-1-FI01-KA220-VET-000025516
Implementation period: 01-12-2021 – 01-12-2023
Assistance program: Erasmus+
Project description
The ongoing changes in VET are demanding different kinds of support mechanisms for teaching staff globally. Mostly this concerns implementing new pedagogies, curricula and use of new technologies. Unfortunately, this is not always possible due to the scale and speed of the labor market changes, and therefore VET providers are often left ashore when struggling with the future oriented changes. (UNESCO-UNEVOC 2020.) Teachers also need digital competences to integrate digital technologies in education and support the acquisition of students' digital competence (Caena & Redecker 2019). COVID-19 has affected all levels of education system including VET. It forced the VET colleges to accelerate their digitalization to its extreme, which caused new challenges for digital resilience and capacity. Unfortunately, some teachers, study fields and teams were not ready to respond these challenges. This project aims to increase the resilience and capacity through digital readiness of teachers. The digital transformation has integrated digital technology into all areas of business, learning and leisure time. It's also a cultural change that requires VET colleges continually challenge their technological and pedagogical status quo. To meet these challenges this project aims at helping teachers to use technology in new and innovative ways to support students' learning. At the same time, we explore possibilities to find new pedagogical ways to tackle 21st century challenges, promote peer learning across education systems transnationally and catalyse the development of transversal competencies like problem solving, collaboration and creativity.
Target groups:
international coordinators
project coordinators in schools
teachers in the VET sector
companies
mobility participants
students looking for innovative learning and teaching methods and work practices
Project results:
R1: A Model for innovative hybrid mobilities- As a part of the new Model, we will develop various forms of virtual mobility, such as virtual visits, teacher collaboration, joint projects, virtual excursions, and AR experiments. We will also explore the possibility of using virtual games to support lessons. Among the main innovations will also be solutions for the online assessment of learning outcomes. The Model will include suggested actions before, during and after the physical mobility. We will also develop solutions for competencybased exams and skills demonstration in the workplace. We will explore the usage of the new Europass to create digital portfolios, and how it can be fully utilized for employability and future mobility. The use of the new Europass will be beneficial to the teachers and students alike. The Model will help develop more flexible forms of mobility that
can adapt to any changes brought about by a possible outbreak or pandemic or any other possible event. The model will be flexible enough to adapt to changing conditions quickly and ideally combine the advantages of physical and virtual mobility. It could be adapted for different systems and situations. It will help to facilitate the inclusion of participants with special needs and those from socially disadvantaged backgrounds.
R2: Virtual teachers' lounge – Developing teachers' digital competences
In current times there is an inevitable need for a more suitable approach to virtual teaching and to intensify cooperation between teachers on transnational level is essential. Teachers need models and inspiration of how to fully utilize existing technology in their teaching, as well as guidance and reassurance that digital teaching is inclusive, interactive and embraces all learning styles.
A Virtual teachers' room is one way to provide added value to teachers' working life. The solution will consist of:
a learning corner with new ideas,
virtual bookshelf with resources increasing teachers' digital competences, including solutions proved useful in the past year,
advice circle to exchange professional experiences and a lobby area for maintaining one's wellbeing.
This result will be designed for VET teachers who will find support from their peers on new ideas/solutions to difficulties they encounter in virtual teaching, but also partners for their learning projects. It also aims at delivering peer learning and seeking partners for educational projects. The virtual teachers' room enables diversification of teaching methods, discussing and exchanging information among peers within different fields and even from different countries. While the virtual bookshelf will be a resourceful material which users will filter based on the needs.
Partners:
ESPOON SEUDUN KOULUTUSKUNTAYHTYMA OMNIA (Coordinator), ESPOON KAUPUNKI, Finland
VAASAN KAUPUNKI, Vaasa, Finland
DANMAR COMPUTERS SP ZOO, Rzeszów, Poland
ATEC – Associação de Formação para a Industria, Quinta do Anjo, Portugal
Itä-Savon koulutuskuntayhtymä, Savonlinna, Finland
RBZ am Schützenpark, Kiel, Germany
Srednja sola za gostinstvo in turizem Celje, Celje, Slovenia
Kuressaare Ametikool, Kuressaare, Estonia
Verkmenntaskólinn á Akureyri, Akureyri, Iceland


This project has been funded with support from the European Commission. This publication reflects the views only of the author, and the Commission cannot be held responsible for any use which may be made of the information contained therein.