Over the last few months, the DigiCulTS project partners have been working on designing an educational approach for SMEs and have developed a set of questions for SMEs at basic, intermediate, and advanced levels that correspond to the twelve digital competencies.
After the hard work, it was time for workshops with the main purpose of engaging our target groups in the project process to get feedback. Workshops were held in each partner country (Austria, Spain, Poland, and Greece) with 15 participants each (60 participants in total). Some of the workshops, due to the Covid-19 pandemic were held online, but in some partner countries, it was possible to meet face to face.
In Poland, the workshop was held in late April, due to the restrictions associated with the Covid-19 pandemic, the event was divided into 2 sessions. There were 8 participants in the first session and 7 in the second session.
The organizers of the workshop were open to suggestions from the participants and were happy to answer questions. In exchange with experts from the fields of business and digitization, we received valuable feedback for the further development of our tools!
ePortoflio
On DigiCulTs website you will find ePortfolio and progress log. Thanks to it you can follow the progress of the project and see how it all started!
Link to the ePortfolio: https://digicults.eu/de/news/
Stay tuned and follow our Hashtag #digicults on Facebook, Linkedin, Twitter and Instagram. The project partners will keep you posted on their national developments and progress, in national languages and/or in English.
Make sure to follow our Facebook-Page @digicultsforSME!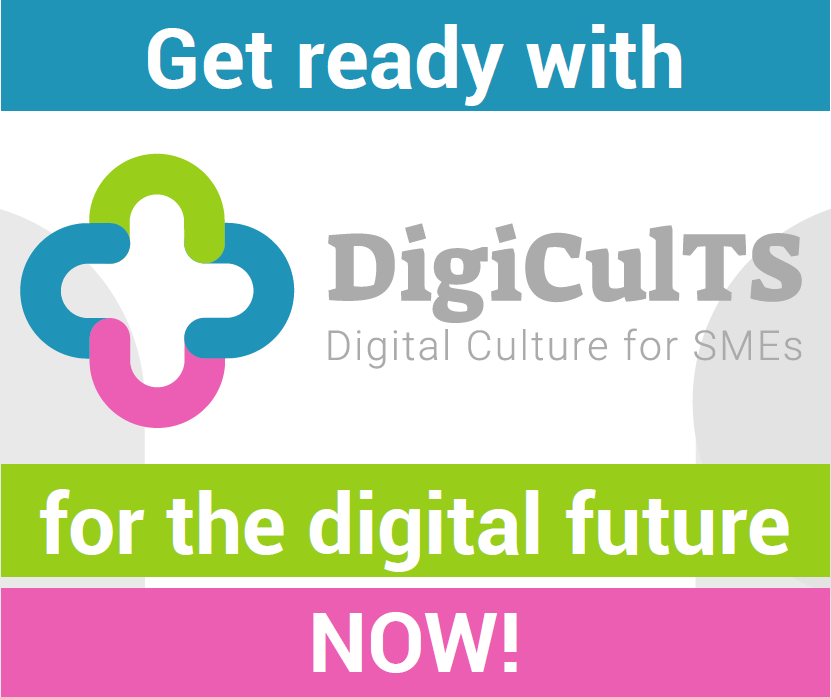 Partners:
Coordinator – SMC STUDIEN UND MANAGEMENT CENTER GGMBH – Saalfelden, Austria
SEA TEACH S.L., Cala D'or, Spain
Danmar Computers – Rzeszów, Poland
UNIVERSITAT FUR WEITERBILDUNG KREMS, Krems, Austria
MILITOS SYMVOULEUTIKI A.E., Athens, Greece


This project has been funded with support from the European Commission. This publication reflects the views only of the author, and the Commission cannot be held responsible for any use which may be made of the information contained therein.