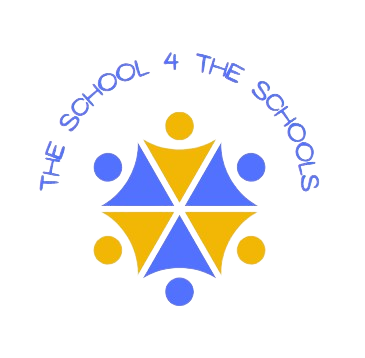 S4S – The School 4 The Schools: An Effective Leadership in Challenging Times
Project number: 2022-1-IT02-KA220-SCH-000089769
Implementation period: 01.11.2022 – 30.04.2025 (30 months duration)
Assistance program: Erasmus+
Project description
The School for Schools is a project based on the idea of developing transferable educational leadership competence.
Project objectives are:
to make teachers competent to function effectively and manage and positively influence their students, to take responsibility for sharing in decision-making relative to institutional issues;
Encouraging teachers to self-direct their students and educational growth;
Guiding teachers to promote in students and education professionals the skills to respond effectively to student differences by promoting an advanced understanding of human development; expecting and respecting diversity among individuals in educational settings; promoting understanding and respect for all members of the educational community; helping students, stakeholders, and colleagues develop a global perspective;
Providing mentoring for students and colleagues.
Target group
High school teachers
Pupils aged 14-19 years
Primary and secondary school teachers, headteachers, and school staff in general
Vet teachers and students with few opportunities
Tourists
Project results
The main results of the project will be the creation of:
Training Curriculum for school teachers on educational leadership :
The training Digital Curriculum for School Teachers, which focuses on enhancing school teachers' skills in (educational) leadership and effective methods needed to overcome both everyday and unexpected critical situations that may arise in or outside their classrooms. The programme proposal aims to identify optimal methodologies and training pathways that bring together the main needs of teachers.
Leadership Education Blended course for teachers:
This result is a blended course that targets high school teachers to rethink the post-pandemic education process from a leadership perspective. The goal of the course will be to equip high school teachers with leadership skills to transition teachers and students from the educational process during the pandemic to the face-to-face school, adapted to the new educational needs of students. The course will be structured in modules, with each module targeting a specific learning outcome.
Leadership Education for Teachers Online Space:
Technical development of the interactive customized e-learning S4S online web space designed to make easy, intuitive and 'social' for teachers (direct target group) to use the blended training course.
Online Collection of Good Practices:
Online Collection of Good Practices (an e-handbook readable from mobile device with a safe, universally readable font, 80 pages) resulted by the activity carried out during the training.
Partners
Fo.Ri.Um (Italy – coordinator)
Istituto Tecnico Statale CARLO CATTANEO (Italy)
UNIVERSITATEA DIN PITESTI  (Romania)
Danmar Computers (Poland)
Colegiul Economic "Maria Teiuleanu- (Romania)
STIFTELSEN KURSVERKSAMHETEN VID UAUNIVERSITET – (Sweden)
ITC – Innovation Training Center – (Spain)
MODEL HIGH SCHOOL OF MYTILENE OF THE UNIVERSITY OF THE AEGEAN – (Greece)
32 SU s izuchavane na chuzhdi ezici "Sv.Kliment Ohridski – (Bulgaria)
Project website: https://s4s.erasmus.site/en/


This project has been funded with support from the European Commission. This publication reflects the views only of the author, and the Commission cannot be held responsible for any use which may be made of the information contained therein.