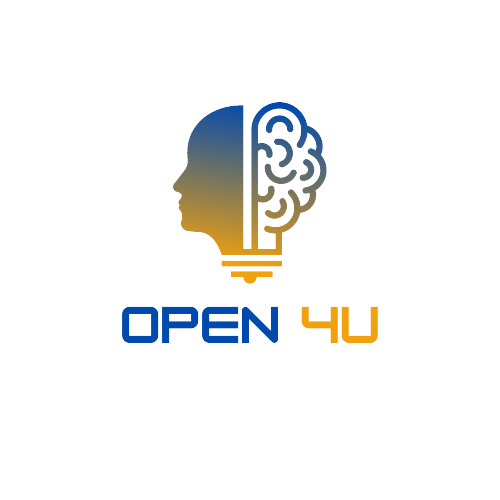 OPEN4U: intrOducing Practices in opEn innovatioN 4U
Project number: 2022-1-IT01-KA220-VET-000085295
Implementation period: 01.12.2022 – 30.11.2024
Field: Vocational Education and Training
Project description
Since open innovation is first and foremost associated with digitalization, it is this aspect that will predominantly contribute to innovation in VET, and is the key focus of OPEN4U.
OPEN4U objectives include:
analysing most recent open innovation practices, beyond standard curriculum, at Consortium level;
exchange of good practices across OECD countries and the identification of open innovation strategies for VET, resulting in the development of an open innovation interactive catalogue, including policy recommendations on open innovation practices at regional level;
preparation of training material for 2 groups: senior SME employees and R&D staff at SMEs on new approaches for working with employees to introduce them to OI practices, and for junior SME employees and graduates on how they can contribute to OI practices, followed by the digitalization of material to a mobile app.
OPEN4U target audience
TG1: Junior and Senior staff at SMEs, R&D team members.
TG2: VET institutions, VET trainers.
Other stakeholders: Incubators of Entrepreneurship, Regional Development Agencies, Chambers of Commerce.
OPEN4U project results
OPEN4U is two main results in 7 languages divided into several activities each.
The following results will be created and implemented by the end of the OPEN4U project implementation period:
Open innovation interactive catalogue
Guides on introducing open innovation practices (mobile app)
Follow the project!
Project website: https://open4u.erasmus.site/
Follow us on Facebook: https://www.facebook.com/open4uproject
Follow us on LinkedIn: https://www.linkedin.com/company/open4uproject/
Partners
Coordinator – Fondazione IFEL Campania – Napoli (Italy)
DANMAR COMPUTERS – Rzeszow (Poland)
ECAM-EPMI – Cergy Pontoise (France)
InnovED – Volos (Greece)
Association ARID – Cracow (Poland)
bit cz training – Prague (Czech Republic)
INNOMATE LTD – Zonguldak (Turkey)


This project has been funded with support from the European Commission. This publication reflects the views only of the author, and the Commission cannot be held responsible for any use which may be made of the information contained therein.