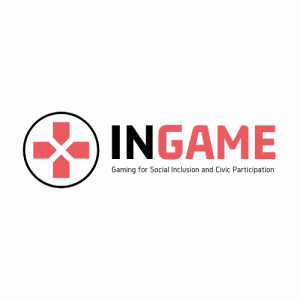 Gaming for Social Inclusion and Civic Participation – A holistic approach for a cultural shift in education and policy – INGAME
Project number: 612166-EPP-1-2019-1-ES-EPPKA3-IPI-SOC-IN
Implementation period: 15.01.2020 – 14.01.2023
Assistance program: Erasmus+
Project description
The project involves the development of an innovative information technology tool, its associated services and maintenance, as well as the dissemination of results on pedagogical practices for fostering knowledge and promoting common values among young adult learners.
The project is directly addressed to EU young citizens (18-35) and aims on building their skills and capacity, and motivating them to increase their civic engagement at local, national and EU level through the use of an interactive online game. In addition, the engagement of the target group in the game will indirectly improve their digital, reading, language, and communication skills.

The following results will be created and implemented by the end of the project implementation period:
Desk research on the needs of the target group
INGAME Curriculum and Content
INGAME online platform
INGAME online game
INGAME mobile application
Project website: https://ingame.erasmus.site/
Partners
Coordinator – Universidad de Salamanca (Spain)
Romanian Literacy Association (Romania)
Anatolia College (Greece)
Kaunas University of Technology (Lithuania)
Storybag (the Netherlands)
Center for Social Innovation (Cyprus)
OXFAM Italia (Italy)
Symplexis (Greece)
Danmar Computers Sp. z o.o. (Poland)


This project has been funded with support from the European Commission. This publication reflects the views only of the author, and the Commission cannot be held responsible for any use which may be made of the information contained therein.