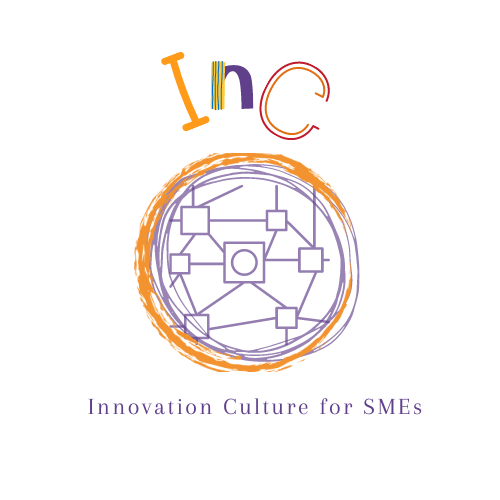 InC – Innovation culture for organizational ambidexterity in SMEs
Project number: 2021-1-RO01-KA220-VET-000034674
Implementation period: 15.02.2022- 14.02.2024
Assistance program: Erasmus+
Project description
Over the past two decades, the EU has experienced a huge change: from a labor-intensive economy to an innovation-oriented one. This transformation has led to several changes in society. One of them is the need for SME managers to implement a collaborative work methodology and involve employees in the decision-making process, with the goal of enabling them to put their skills into practice and achieve real benefits that can help them improve their capabilities.
However, the inability of managers to create the right innovation environment and ensure optimal use of resources and competencies within the organization is a common threat to the sustainability and growth of SMEs, especially in low-tech industries that lack a culture of innovation.
This project aims to address this problem by helping SME managers develop innovation competencies (especially in low-tech sectors), helping them develop a culture of innovation, and helping them make effective use of available resources to increase company productivity and sustainability.
Target groups:
SME managers belonging to no/low tech industries
VET organizations
SMEs support/intermediary organizations
Project results
R1: InC sensitization methodology and tools – a set of the best practices and expert recommendiations related to the engagement in innovation culture.
R2: InC innovation cards – tool for building key understanding ofSMEs managers of key concepts regarding innovation and innovation culture.
R3: InC competence development program – computer-mediated program preparing participants to address the 5 key areas of estabilishing innovation culture in SME.
R4: InC innovation culture challenge – a collection of practical challenges for SMEs managers to be implemented in day-by-day professional activities, based on individual task delivery system.
R5: InC online platform – the project interface required to provide the produced results to the users in a highlyintegrated way.
Partners:
Consiliul National at Interpriderilor Private Mici si Mijlocii din Romania – Arad, Romania (coordinator)
Danmar Computers SP Zoo – Rzeszow, Poland
Asociación Valencia Innohub – Valencia, Spain
E&D Knowledge Consulting LDA – Covilha, Portugal
Asociatia de Dezvoltare Economico-Sociala – Curtea de Arges, Romania
Project website: TBA



This project has been funded with support from the European Commission. This publication reflects the views only of the author, and the Commission cannot be held responsible for any use which may be made of the information contained therein.