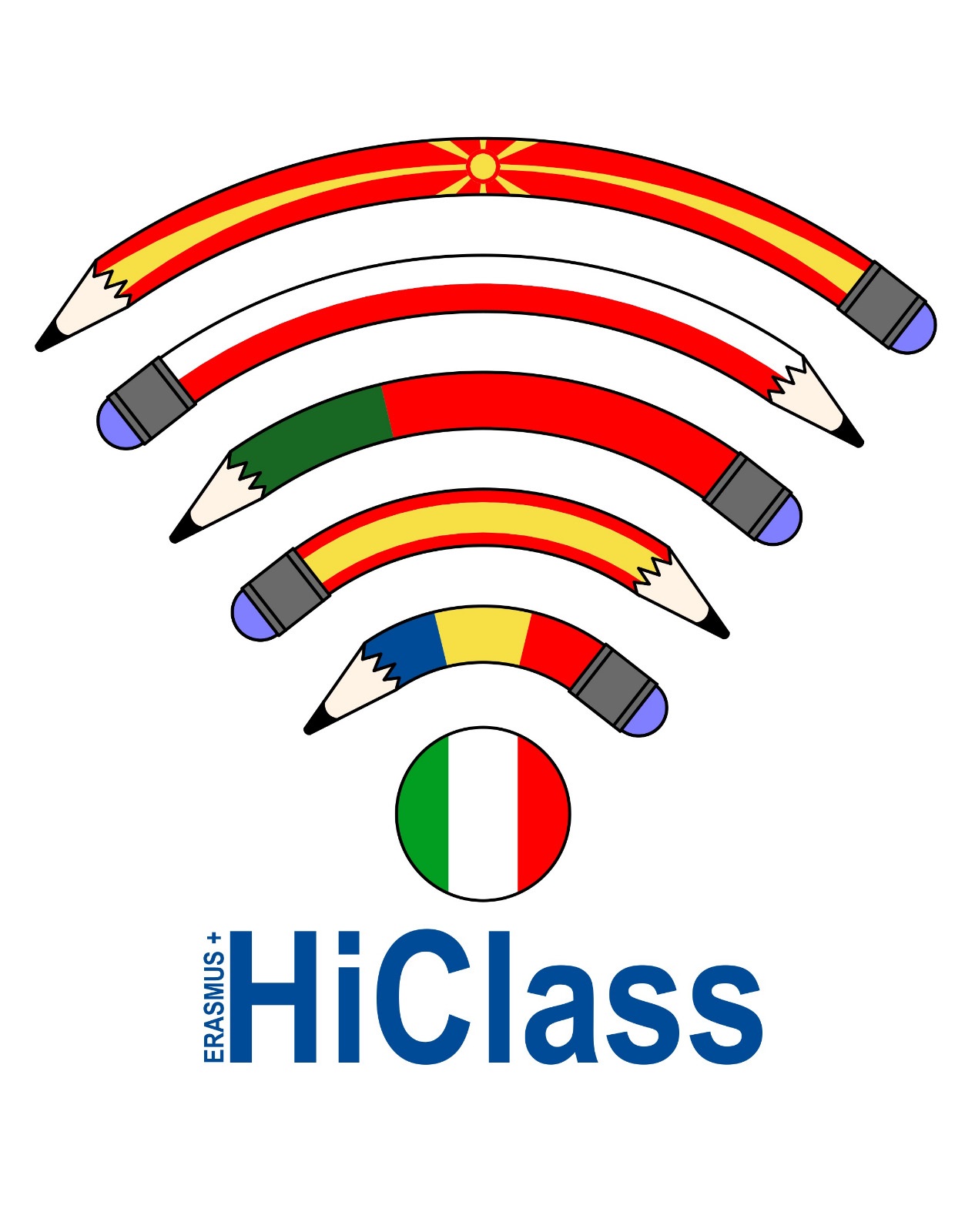 HI-Class – Hybrid and Innovative digital aware Class
Project number: 2020-1-IT02-KA226-SCH-095699
Implementation period: 2021-05-16 – 2023-05-15
Project description
Facing the epochal transition that legitimises digital technologies as an indispensable tool to guarantee the right to education, questions arise that prevent us from combining methodologies, awareness and innovation in the best possible way. Teachers are not yet able to effectively design digital teaching lessons both in hybrid situations (students in the presence and simultaneously students online) and mixed ones. They need not only to acquire skills in the use of softwares and hardwares, but they must gain confidence in the effectiveness of the medium, get out of the comfort zone of the "traditional lesson", facing the new challenge posed by the pandemic conditions.
OBJECTIVES:
The partnership has the following objectives:
make the teaching-learning process more effective in the context of mixed and hybrid teaching;
enhance the key competence of students in developing an autonomous learning methodology of knowledge through the use of digital technological tools as a way to access in the extent of information available on the Internet.
Specifically, students, during their mobility will be able to:
gain access to innovative way of living the laboratory experience by involving one's companions remotely through the use of portable webcams and the assignment of tasks to be carried out, useful for the documentation of the laboratory processes and the editing and post-production of video tutorials ;
increase their Information Literacy through training activities in the publication of scientific news, articles and blogs and production of fake news;
increase the ability to understand and analyze a text by working on paper texts thus avoiding the temptations of plagiarism and trying to empower them;
implement hybrid cooperation skills (online and face-to-face) by experimenting with didactic methodologies such as debate, mental mapping and quiz shows, suitably adapted for the hybrid class and for the programming of subject teachers.
INTELLECTUAL OUTPUTS:
Digital Duty Manager profile
Repository of online teaching methods and paths
Development of a peer learning framework for Teachers
PARTNERS:
The Hi-Class partnership is formed by upper secondary education institutions from Italy, Romania, the Republic of North Macedonia, Portugal and two companies – one from Spain and one from Poland -who are experts in training in the field of Information Technology and in the development of customized digital solutions both for teachers and students.
I.I.S. A. VOLTA (Italy) – Coordinator
Liceul Teoretic Grigore Moisil Timisoara (Romania)
SOU Jane Sandanski Strumica (The Republic of North Macedonia)
Agrupamento de Escolas de Pinheiro (Portugal)
MARKEUT SKILLS SOCIEDAD LIMITADA (Spain)
DANMAR COMPUTERS SP ZOO (Poland)


This project has been funded with support from the European Commission. This publication reflects the views only of the author, and the Commission cannot be held responsible for any use which may be made of the information contained therein.