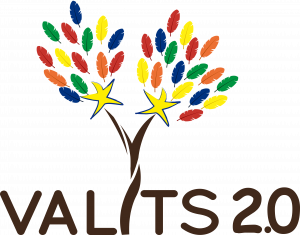 Valits 2.0 – VALidating Informal and Transversal Skills for Disadvantaged and Low Skilled Persons
Project number: 2019-1-ES01-KA202-065683
Implementation period: 01.12.2019 – 30.11.2021
Assistance program: Erasmus+
Project description
For disadvantaged groups and low skilled persons, Informal Transversal Skills are often the "key" to access a job and are likely to become essential in today's work environment: Whilst digital and technological developments replace many low skilled jobs, it is increasingly important to have skills that cannot be replaced by computers or robots. Disadvantaged and low-skilled persons often lack formal qualifications and are not aware of their often high levels of transversal skills such as teamwork, customer orientation and work under pressure. The first step for these groups is therefore to have their personal informal transversal skills recognised and then to either use these to find employment or to learn new skills and improve existing skills

In the course of the project, the project partners will develop three intellectual outputs:
The VALITS 2.0 Assessment Tool.
The Skills Learning Guide
The VALITS 2.0 Training Manual for professional qualification consultants
Target Groups:
Low-skilled adults and disadvantaged groups such as migrants, ethnic minorities and people with disabilities.
Professional qualification consultants in employment authorities and job agencies.
Employers of low-skilled workers.
By incorporating components of several EU tools into its methodology (such as ECVET, Europass and ESCO), the project will develop a model that can transferred to other target groups in order to support the mobility of workforce across different sectors and create flexible pathways in line with learners' and employees needs and objectives. The project will thereby deliver an important contribution to the "New Skills Agenda for Europe", that aims at "making better use of the skills that are available" as well as fulfilling the requirements of the ET2020 strategic framework.
Project website : https://valits.eu/

Partners
Coordinator – Sea Teach S.L – Spain
Videnscenter for Integration – Denmark
Danmar Computers Sp z o.o. – Poland
SMC Studien und Management Center gGmbH – Austria
Clube Intercultural Europeu – Portugal


This project has been funded with support from the European Commission. This publication reflects the views only of the author, and the Commission cannot be held responsible for any use which may be made of the information contained therein.