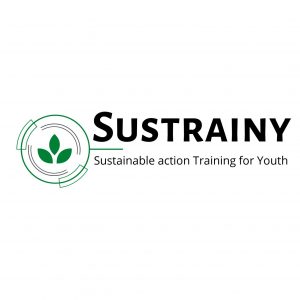 SUSTRAINY – Sustainable action Training for Youth
Project number: 2019-3-FR02-KA205-016556
Implementation period: 01.02.2020 – 31.01.2022
Project description
The main objective of SUSTRAINY is to explore new market trends in sustainable business management and provide a comprehensive guideline for their implementation by young wanna be entrepreneurs.
Operational objectives of the project:
– Define different sustainable development approaches and concepts, providing comprehensive and didactic panorama of the sustainable development goals and associated possible actions or initiatives,
– Evaluate the level of knowledge and competence in the field,
– Develop and share tools for the implementation of sustainable business models,
– Provide guidelines through the existing assessment and certification systems,
– Fostering the alignment of business practices to EU objectives of sustainable and smart growth, especially with the 2030 Agenda for Sustainable Development,
– Assess wannabe entrepreneurs in their business model development by helping them in the understanding of their potential role in the achievement of the sustainable goals and with example of concrete actions that can be implemented.
Target Groups:
SUSTRAINY addresses people aged 18-35, especially:
– the unemployed or in situation of seeking new job opportunities, willing to undertake business initiatives,
– recently established entrepreneurs without discrimination regarding their educational and professional background, their gender, religion or sexual orientation.
Website: www.sustrainy.erasmus.site
Partners
E-Juniors – France – Coordinator
Markeut Skills Sociedad Limitada – Spain
Danmar Computers Sp z o.o. – Poland
Consorzio  Materahub Industrie Culturali e Creative – Italy
Asociación Valencia Inno Hub – Spain


This project has been funded with support from the European Commission. This publication reflects the views only of the author, and the Commission cannot be held responsible for any use which may be made of the information contained therein.