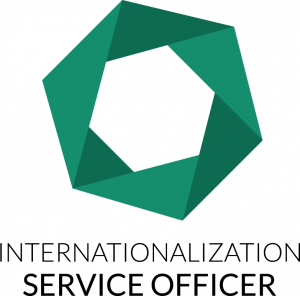 ISO – Internationalization Service Officer – new WBL profession in duty of SME internationalization.
Project number: 2019-1-PL01-KA202-064979
Implementation period: 01.10.2019 – 30.09.2021
Assistance program: Erasmus+
Project description
The concept of internationalization in the professional operations of SMEs is often approached without previous preparation or adequate strategies. Chambers of Commerce and Industry (CCI) and Vocation Education and Training (VET) providers are available to support, but most of them are not properly equipped with knowledge and tools.

Aims of project:
ISO project aims to create a new professional profile, the Internationalization Service Officer – and prepare the CCI and VET professionals who are working directly with the SMEs operating in the business areas of trading and services
Project outputs:
A training manual for future Internationalization Service Officer professionals
A set of videocasts with SMEs' representatives to share their experience in internationalization
A self-assessment and training app to support start-ups
Target group:
The direct target group of the project will be employees of Economic and Industrial Chambers, employees of VET providers and VET trainers who work with and support SMEs (trade and services) in the field of internationalization.
Partners
Regionalna Izba Gospodarcza w Katowicach – Katowice, Poland – Coordinator
HERAKLION CHAMBER – IRAKLEIO KRITI, Greece
CENFIM – La Sènia, Spain
AEVA – Aveiro, Portugal
Fondazione Ifel Campania – Naples, Italy
Danmar Computers Sp. z o.o. – Rzeszów, Poland
INSTITUTE OF TECHNOLOGY TRALEE – Tralee, Ireland
Website: https://iso.erasmus.site/
Facebook: https://www.facebook.com/iso.erasmus


This project has been funded with support from the European Commission. This publication reflects the views only of the author, and the Commission cannot be held responsible for any use which may be made of the information contained therein.