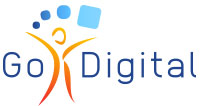 Go-Digital – Increasing adult educators' competencies to encourage female employment in the digital sector of the labour market
Project number: 2019-1-LT01-KA204-060723
Implementation period: 01.11.2019 – 30.04.2022
Assistance program: Erasmus+
Project description
EU study "Women in Digital Age" (2016) shows that women are under-represented in digital sector as women represent only 21.5% of all workers. The importance of the jobs in digital sector is increasing in EU during the last years; however, women are afraid to choose the jobs in the digital sector. Some of the reasons why women are not taking training to enter the employment in digital sector are defined as a lack of inspiration and role models. The project Go-Digital seeks to contribute to the implementation of EU strategy through education. The project also contributes to achieve Europe 2020 benchmarks: to increase employment rate by 75%; to raise the participation of adults in lifelong learning by 15%.
Aim:
Motivating disadvantaged women to get employment in the digital sector.
Direct target group:
120 Adult educators-coaches;
72 women with disadvantaged backgrounds and fewer opportunities.
Project outputs:
O1 – Training program for adult educators "Coaching for female employment in the digital sector in order to promote gender equality in the labour market".
O2 – Assessment tool to recognise the adult educators-coaches competencies and provide them with the digital badges.
O3 – Set of Open Educational Resources for women: "Why re-qualification for employment in the digital sector is important for me?".
Partners
LWLO – Kaunas, Lithuania (coordinator)
MAGENTA CONSULTORIA PROJECTS SL – Gijon, Spain
CSI CENTER FOR SOCIAL INNOVATION LTD – Nicosia, Cyprus
Danmar Computers LLC – Rzeszow, Poland
ASOCIATIA IN VARIETATE CONCORDIA – Constanta, Romania
Informacijos technologiju mokymo centras – Kaunas, Lithuania
Website: https://godigital.lmlo.lt/
Facebook: https://www.facebook.com/godigitalerasmusproject


This project has been funded with support from the European Commission. This publication reflects the views only of the author, and the Commission cannot be held responsible for any use which may be made of the information contained therein.