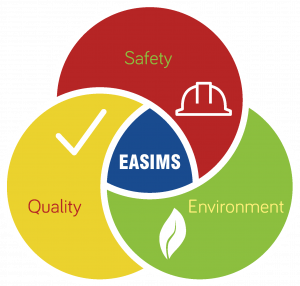 EASIMS: InnovativE trAining Solution for implementing Integrated Management System (IMS) in SME (EASIMS)
Project number: 2018-1-ES01-KA202-050334
Implementation period: 01.11.2018 – 28.02.2021
Project description
Integrated Management Systems (IMS) help companies dealing with Quality, Environment and Safety norms (mainly ISO9001, 14001/EMAS, 45001) to reduce management systems implementation difficulties and maintenance costs. Moreover, this system support companies competitiveness and strategies implementation. Within EU, SMEs represent 99% of companies and employ 68% of workers and this number is growing. SMEs limited human and financial resources make difficult for them create and maintain these systems that could help them being more competitive on the medium and long term. At the moment, there is a clear lack of training courses, materials and tools helping SMEs to acquire skills and knowledge needed to efficiently internally implement an IMS.
Objectives:
EASIMS project will develop 2 innovative training means to facilitate IMS design and implementation in SMEs, changing the training approach currently based on norms requirements:
1-A modular course based on processes management (identification, design, implementation, revision and improvement of processes and their elements) and composed of 50 training pills related to specific actions and tasks.
2-A software to facilitate the practical IMS design and implementation. They will be useful for SME IMS manager in any sector. An application case will be developed for furniture SMEs.
They will provide practical training assistance to help IMS Managers to learn by doing through the design and implementation of an IMS in a specific SME.
Project website: https://easims.erasmus.site/
Partners
CENFIM – La Sènia, Spain (coordinator)
AGRUPACION EMPRESARIAL INNOVADORA DE FABRICANTES DE MUEBLES Y AFINES
DE LA REGION DE MURCIA – MURCIA, Spain
URV – TARRAGONA, Spain
Danmar Computers LLC – Rzeszow, Poland
U.E.A. z.s. – Prague, Czech Republic
FCBA – CHAMPS SUR MARINE, France
IIS G. MERONI – LISSONE, Italy


This project has been funded with support from the European Commission. This publication reflects the views only of the author, and the Commission cannot be held responsible for any use which may be made of the information contained therein.