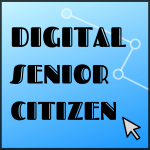 Digital Senior Citizen
Project number: 2018-1-FR01-KA204-047895
Implementation period: 01.09.2018 – 31.08.2020
Project description
The project focuses on adult education and well-being of senior citizens in age 65 and above. These people are disadvantaged in terms of digital skills because while younger generations acquire these skills practically from the childhood, the older people didn't have that chance simply because the computers and Internet didn't exist when they were growing up and digital competencies were not included in their educational paths.
Even those people that have finished universities belong to the group of low skilled in the area of digital competences. This fact seriously limits their lives preventing them from taking full advantage of their time while being retired. In addition, nowadays most attention is being focused on educating young people and when there are computer classes organised for seniors, they are usually not in any way tailored to the specific needs of this target group. They are basic and technical, just like any other classes of IT for beginners, no matter what their age and abilities are.
The objectives of the project are:
to extend competences of adult educators by preparing Open Educational Resource (OER) containing innovative, customised learning course "Digital Life",
to enhance the competences of adult educators by providing them with Digital Story Telling methodology in training of disadvantaged learners, especially seniors,
to develop OER that is tailored to the needs of adult educators and seniors to support the increase of digital skills of both groups,
to disseminate the results in order to reach as many adult educators and seniors throughout European Union as possible.
Target groups:
adult educators (including not professionals, working in non-formal education settings, adult education centres, schools for adults, 3rd age universities, social centres, associations, voluntary organisations, adult educators – freelancers) working with disadvantaged learners, especially with senior citizens,
learners from disadvantaged groups, especially seniors in age 65 and above.
Project website: https://dsc.erasmus.site/
Partners
MITRA FRANCE – France
EESTI PEOPLE TO PEOPLE – Estonia
Danmar Computers – Rzeszow, Poland
CESIE – Italy
CENTRE FOR EDUCATION – Spain
PANEPISTIMIO THESSALIAS – Greece


This project has been funded with support from the European Commission. This publication reflects the views only of the author, and the Commission cannot be held responsible for any use which may be made of the information contained therein.