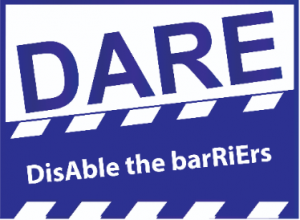 DARE – DisAble the barRiErs
Project number: 2018-3-DE04-KA205-017203
Implementation period: 15.02.2019 – 14.02.2021
Project description
The aim of DARE is to empower youth NGOs and youth workers into implementing more inclusive youth mobility projects for young people with special needs.

Specifically, the DARE project's target groups are:
Youth workers, Youth organizations, members, trainers, educators, youth leaders;

Young people and young people with visual, hearing, physical, impairments (young PwVHPI).
This DARE project has been designed to address the real needs of young people with disabilities.
The following results will be created and implemented by the end of the project:
DARE practical guide for inclusion
DARE Digital Storytelling Handbook of Empowerment
Truth and DARE Space
DARE mobile app
Project website: dare-project.de
Partners
Coordinator – JUGEND- & KULTURPROJEKT E.V. (JKPEV) – Dresden, Germany
SOCIETA' COOPERATIVA A.FO.RI.S.MA.-ACLI FORMAZIONE RICERCA SERVIZI MANAGEMENT – Pisa, Italy
KAINOTOMIA & SIA EE – Larissa, Greece
KREISAU – INITIATIVE E. V. – Berlin, Germany
DANMAR COMPUTERS LLC – Rzeszow, Poland


This project has been funded with support from the European Commission. This publication reflects the views only of the author, and the Commission cannot be held responsible for any use which may be made of the information contained therein.