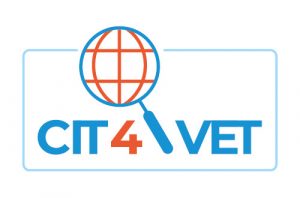 CIT4VET – Open Online Catalogue of Intercultural Tools for VET Trainers
Project number: 2018-1-DE02-KA202-005051
Implementation period: 01/10/2018 – 30/09/2020
Project description
Intercultural competences in today's reality are key competences due to the significant increase in migration and movement of people in different countries. Nevertheless, the development of intercultural competences is not yet common on key educational pathways. This is particularly true for trainers in the vocational education and training (VET) sector.
CIT4VET goals – an open online catalog of intercultural tools for vocational education and training, – meets the need for intercultural competences in vocational education and training. The project – supported by a consortium of partners from Bulgaria, Germany, Ireland, Italy, the Netherlands and Poland – helps improve and increase the ability of VET trainers to offer intercultural training by offering:
online catalog of available intercultural tools for use in training culturally diverse groups
intercultural training material for self-study or for use in training
a guide to the catalog with a dictionary of terms
Project website: https://cit4vet.erasmus.site
Partners
Assist GmbH (coordinator) – Paderborn, Germany
Institute of technology Tralee – Tralee, Ireland
Danmar Computers – Rzeszów, Poland
I.B.I. Intercultural Business Improvement – Hilversum, the Netherlands
Runi Center – Sofia, Bulgaria
C. K. educator – Rzeszów, Poland
Diciannove – Genoa, Italy


This project has been funded with support from the European Commission. This publication reflects the views only of the author, and the Commission cannot be held responsible for any use which may be made of the information contained therein.