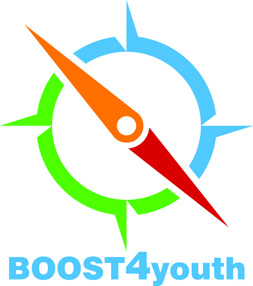 BOOST4Youth – online Business and e-cOmmerce cOaching for increasing entrepreneurShip among youth
Project number: 2018-1-UK01-KA205-047672
Implementation period: 03.09.2018 – 02.09.2020
Project description
BOOST4youth is about helping young individuals become digital entrepreneurs by setting up online businesses which can be financially viable by targeting the foreign consumer through personalised digital strategies aiming to increase cross-border sales.
The projects addresses the following sectors:
AGRO-PRODUCTS
TOURISM
REAL ESTATE
Two target groups can be distinguished within the project's framework:
Young entrepreneurs (aged 19 to 35) who lack knowledge on how to benefit from smart use of ICT in order to grow their business and expand cross-borders;
Adults wanting to start an online business, particularly to focus on cross-border sales.
The following results will be created and implemented by the end of the project:
Learning Outcomes for the young digital entrepreneur profile
Digital Training Content
ECVET supporting tools
Digital Strategy Genie
Online skills retention function
BOOST4youth Academy for sustaining the BOOST4youth network
Project website: boost4youth.eu
Partners
Coordinator – CIVIC COMPUTING LIMITED – Edinburgh, United Kingdom
BUSSINESS SCHOOL PAR – Rijeka, Croatia
CCS DIGITAL EDUCATION LIMITED – Dublin, Ireland
A & A Emphasys Interactive Solutions Ltd – Nicosia, Cyprus
ASSERTED KNOWLEDGE – Piraeus, Greece
Danmar Computers LLC – Rzeszow, Poland


This project has been funded with support from the European Commission. This publication reflects the views only of the author, and the Commission cannot be held responsible for any use which may be made of the information contained therein.