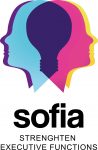 Strategies tO strenghten executive Functions In Adults
Project number: 2017-1-FR01-KA204-037216
Implementation period: 01.09.2017 – 31.12.2019
Assistance program:: Erasmus+
Project description
The SOFIA project will focus on increasing EXECUTIVE FUNCTIONS in adult population. Executive Functions have recently occupied a central position in studies related to the improvement of adult conditions, after the new acquisitions in neuroscience and neuropsychology.
The project assumes that a cross-cultural exchange is crucial to construct an innovative integral approach that provides adequate tools to tackle the problems of adults with executive function disorders. So far, the consequences of executive function disorders have been dealt mostly by strategies with an external locus of controls. These strategies mainly slow down to family doctors who makes diagnoses and prescribe medication.
The GENERAL OBJECTIVE of the project is to enhance the personal and professional skills and competences of adults in order to help them to be more integrated in the labour market and in the society, by enhancing their executive functions.
The possibility to work on an European level will provide the opportunity for the organisations to experiment, test and pilot new tools in different contexts with different legislations and find innovative methods (Mindfulness and online exercises) and strategies to deal with the aforementioned disorders.
Project website: sofia.erasmus.site
Partners
Institut Corse de Formation et Recherche en Travail Social – Bastia,France
Civiform societa cooperativa socjale – Cividale del Friuli (UD), Italy
UNIVERSITATEA PETRU MAIOR DIN TARGU MURES – TARGU MURES, Romania
Danmar Computers – Rzeszów, Polska
ETAIREIA PROIGMENON EFARMOGON SISTIMATON DIOIKISIS-ISON PSYCHOMETRICA – Athens, Greece
VOLKSHOCHSCHULE IM LANDKREIS CHAM EV – Cham, Germany
BEST INSTITUT FUR BERUFSBEZOGENE WEITERBILDUNG UND PERSONALTRAINING GMBH – Wien, Austria


This project has been funded with support from the European Commission. This publication reflects the views only of the author, and the Commission cannot be held responsible for any use which may be made of the information contained therein.