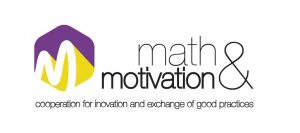 M&M – Math and Motivation
Project number: 2017-1-BG01-KA201-036220
Implementation period: 01.09.2017 – 31.08.2019
Project description
The aim of the M&M project is to improve basic skills of secondary school students and reduce dropout rate in basic skills of different degrees of complexity.Those skills are becoming increasingly important to enable full participation in all aspects of modern life. The aim of the project will be achieved through:
development of Collaborative methodology and implementing it on-line form as Collaborative Learning e-Tools,
development and test of curriculum improving math, science and literacy skills,
preparation of Toolkit for Teachers and equipping them with competence of using it,
wide dissemination of outputs in order to assure exploitation and sustainability.
Through the M&M project realisation, target group members, partners and other stakeholders will also:
increase knowledge regarding new methods of school education in own country and partnership countries,
improve team work skills, especially in work with participants from other countries,
improve language skills and ICT skills,
improve knowledge about cultures of partners' countries,
acquire new skills in designing education path in math and science competencies (for some participants).
Project website: mm.erasmus.site
Partners
REGIONALNO UPRAVLENIE NA OBRAZOVANIETO SOFIA GRAD – Sofia, Bulgaria
SDRUDZENIE ZNAM I MOGA – Sofia, Bulgaria
Danmar Computers LLC – Rzeszów, Poland
Asociatia pentru Dezvoltare Antreprenoriala, Pregatire Profesionala si Transfer Tehnologic (ADAPT) – Valea Mare-Podgori, Romania
Istituto Statale E.Montale – Pontedera, Italy
Strojarska tehnička škola Osijek – Osijek, Croatia
EPRALIMA Escola Profissional do Alto Lima, C.I.P.R.L. – Arcos de Valdevez, Portugal


This project has been funded with support from the European Commission. This publication reflects the views only of the author, and the Commission cannot be held responsible for any use which may be made of the information contained therein.