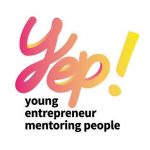 YEP! young entrepreneur people to mentor long term unemployed adults
Project number: 2016-1-ES01-KA202-024982
Implementation period: 01.09.2016 – 31.08.2018
Project description
The mentoring relationship has always been focused on a special link between two actors in which the most experienced (usually the eldest) supports, encourages and inspires the one with less experience (very often a young person).
Since 2010, Europe has experienced a "start-up phenomenon" and an increase in the discussion and initiatives around the topic of entrepreneurship as a mean to reduce youth unemployment. To face lack of jobs and increase in youth unemployment rates, European countries have started to promote programs, contests, financing opportunities for young people to start their own business, becoming entrepreneurs, trying to self-employ themselves.
YEP project idea wanted to develop a training course for young entrepreneurs (age 18-30) and startuppers to enable them to mentor adults and elderly people on how to start a business, improving their 'motivation, and developing a more entrepreneurial approach towards life, job, society.
The main results of the project were:
Training course and manual for young entrepreneurs on how to mentor adults and elderly people;
Pilot – Test of methodology and tools;
A social learning platform to train young entrepreneurs and let them interact with adult mentee;
e-Modules for Young Entrepreneurs Learning Online.
Project website: yep-project.eu
Partners
AJEV – Valencia, Spain
MATERAHUB – Matera, Italia
FYG CONSULTORES – Valencia, Spain
UNIVERSITY OF THESSALY-UTH – Volos, Greece
DANMAR COMPUTERS – Rzeszów, Poland
E-SENIORS – Paris, France


This project has been funded with support from the European Commission. This publication reflects the views only of the author, and the Commission cannot be held responsible for any use which may be made of the information contained therein.